Track time from your iGoogle Account
Our Google time tracking gadget allows you to log project work time from your iGoogle account. This would streamline the time tracking for your projects and their respective tasks as you would no longer be required to track project work time only from your Invoicera account.
Benefits of using Google time tracking gadget for Invoicera
Track time through your iGoogle or Gmail account for projects in Invoicera
Time entry for tasks and projects with notes into your Invoicera account
Display projects and tasks from your Invoicera account
Calendar is also available to choose the date for time entry
Transmissions are all secure over SSL
Saves Invoicera login info within Google account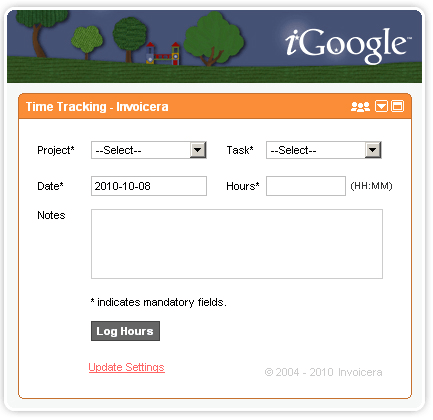 How to set up the gadget in iGoogle account?
Sign in to your Google account and go to your iGoogle page
Go to the iGoogle directory page and search "Invoicera" and click on the "Add it Now" button