It's been an exciting 11 months since we launched the first edition of Invoicera. Since then we have trickled out a number of improvements and at times played with the code just a little too much causing user inconvenience (please accept our sincere apologies). But believe us we have always strived to deliver only the best online invoicing application with a touch of perfection, convenience and of course style. Speed, simplicity and security have always been the aspect where we have scored above the rest and will continue to do so.
We hear a lot from our users and their message is clear – Invoicing needs to be simple. Yes, we agree and that is why our users are with us. But is this it? This is the question we asked ourselves and thought what if we provide the world with an online invoicing application that is brimming with features, reflects user business identity with every single invoice, never lets a minute go by unbilled and yet maintains the highest degree of simplicity. We are through with all the thinking and the caldron needs to be stirred for one last time. Meanwhile, we have released the first images of the New Invoicera screenshots. Contemporary design, time tracking and expense tracking are some of the highlights of the new release.
Have a look…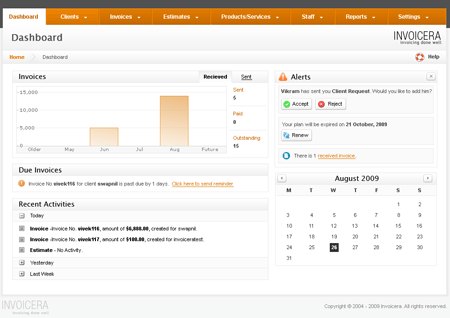 The new dashboard looks attractive and will give you a bird's eye view of all your important activities.  The graphic presentation will help you spend less time searching for accurate figures and all your invoicing activities will be displayed on the dashboard.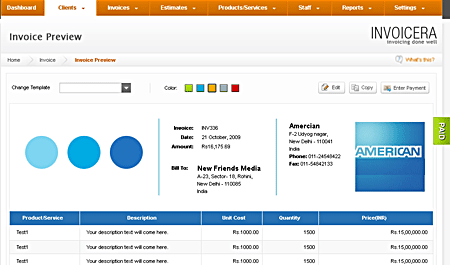 You will now be able to choose from a wide range of invoice templates that will best suit your business. Each template will make you look professional with neat presentation and excellent design. You will now be able to play more with your templates as you can change colors and choose the one that relates to your business.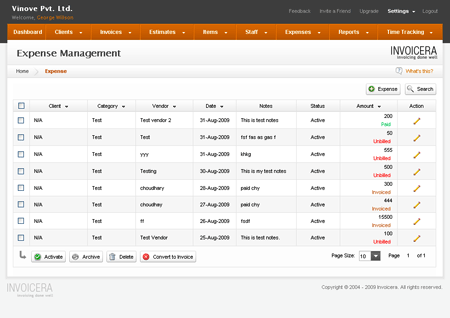 With the new Invoicera, users will be able to track project time as well as expenses in the most simple and effective way. The total project cost can be easily added to the final invoice without any hassle.
Hold on to your excitement just one final time.
We look forward to meet you at the release…
Happy Invoicing!